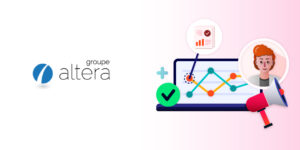 Par Grégory THIBESSARD,
Managing Director – Groupe Altera
_____
Can you introduce us to the Altera Group?
The Altera Group supports business transformation projects in three dimensions: strategic consulting (Stratego Conseil), organizational and digital transformations (Altera Conseil) and change management (Altera Evolution).
What are the major challenges and objectives of the Altera Group?
The challenges of the Altera Group are to meet the needs of its customers by providing them with tailor-made solutions thanks to the complementarity of a network of independent partners and internal consultants.
What is the place of competency management in your organization?
This is a central role for Altera. The skills of our consultants have been mapped, valued and evaluated and serve as a driving force for personal development (soft skills) and performance progress (hard skills).
" Moving from a knowledge-based economy to a skills-based economy is the key shift that the Altera Group has decided to make in order to create a sustainable future. "
Grégory THIBESSARD, Managing Director – Altera Group
What issues do you want to address by implementing a skills management solution?
In an ever-changing environment, we are committed to answering several questions:
How do we identify, promote and value skills?
How to animate these skills so that they feed the consultant's career path?
How to bring skills closer to market needs by adapting to them?
Concretely, it is a matter of proposing and animating a framework to historicize the experiences acquired by our consultants during their missions and share a common repository to be enriched in time and duration.
Why did you choose a partner like eLamp?
We had built and implemented a skills repository in an "in-house" tool whose maintenance was becoming heavy and complicated. A benchmark of skills management solutions with a precise specification led us to partner with eLamp.
The determining factors were the ease of implementation of the solution and the functional coverage of our skills development needs.
What difficulties do you expect to encounter in setting up a project like this?
The difficulties are minor because we were already mature in the skills approach and our employees were already familiar with an "in-house" tool that was limited and less accomplished. However, we remain vigilant about updating their skills map and using it to optimize the career paths of each employee.
In concrete terms, what prospects do you have by knowing your employees better?
A more accurate evaluation of employees' skills will allow for fairer remuneration, the creation of an appropriate training program and, above all, the empowerment of each employee in the development of his or her professional project.
Subscribe to our newsletter
By entering your email address, you agree to receive our newsletters via email and acknowledge our
privacy policy
.
You can unsubscribe at any time using the unsubscribe links or by contacting us at contact@elamp.fr.